Complete Lockdown in Haryana for seven days from May 3
Abstract
Home Minister Anil Vij announced this. Earlier on Friday, the weekend Haryana lockdown was imposed in nine districts of the state.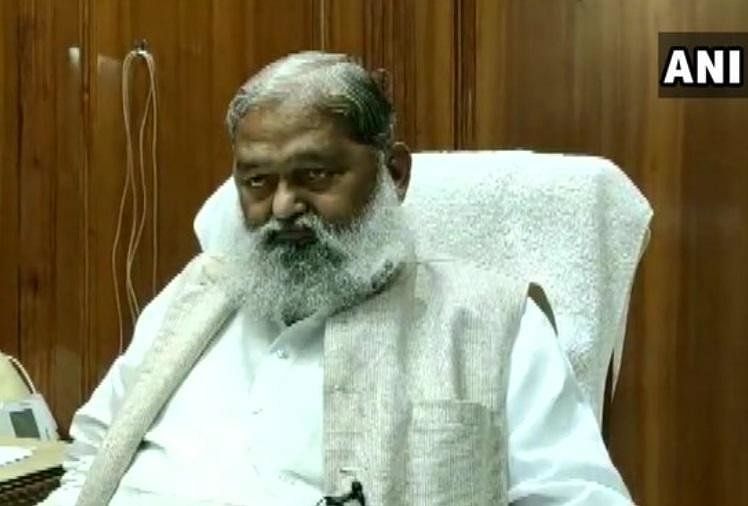 Detailed
A full seven-day lockdown has been imposed in Haryana from May 3 to Monday amid rising corona cases. Home Minister Anil Vij announced this. Earlier on Friday, the weekend lockdown was imposed in nine districts of the state. Now there will be restrictions for seven days in the entire state.
Not to mention the Corona havoc in Haryana. On Saturday, 13588 new cases of corona were reported in the state, while a record 125 infected people died. The death toll is increasing rapidly. On Saturday, the recovery rate was 78.70 percent and the death rate was 0.87 percent. In Gurugram and Faridabad, the number of infected is not decreasing. There are 102526 active patients in the state.
4099 in Gurugram, 1751 in Faridabad, Sonipat 920, Hisar 897, Ambala 365, Karnal 740, Panipat 549, Rohtak 348, Rewari 236, Panchkula 446, Kurukshetra 211, Yamunanagar 333, Sirsa 409, Mahendragarh 526, Bhiwani 312, Jhajjar 264 , Palwal 100, Fatehabad 291, Kaithal 207, Jind 458, Noon 105, Charkhi Dadri, 21 new cases have been found.
12 in Gurugram, 5 in Faridabad, Sonipat 3, Hisar 17, 9 in Ambala, Karnal 5, Panipat 12, Rohtak 4, Rewari 2, Panchkula 12, Kurukshetra 4, Yamunanagar 4, Sirsa 4, Bhiwani 8, Jhajjar 4, Palwal 7 , 4 persons have died in Fatehabad 1, Kaithal 4, Jind 4, Charkhi Dadri. On Saturday, 8509 patients recovered and returned home. People are getting infected at the rate of 6.76 percent. Samples of 50823 people in the state were collected for examination of corona. The condition of 1383 infectives remains critical. Of these, 1152 are on oxygen and 231 on ventilator.
Source URL — : https://www.amarujala.com/chandigarh/complete-lockdown-in-haryana-for-seven-days?fbclid=IwAR0CL0GoNDTVhukF_4DOqhNpP4KkovkeRfr9LhQgPsB3JOz-fa3ltMdLTPY
Haryana Lockdown Guidelines
The Haryana government has decided to impose a seven-day lockdown in the state under the Disaster Management Act 2005. A decision of seven days lockdown rent has been taken by the Home Department across the state. This lockdown has been imposed for seven days from Monday 3 May.
Complete Lockdown in Haryana for seven days from May 3
The persons and services exempted in the said instructions include those who will be posted in law and order or emergency services. These include Municipal Services, Police, Uniformed Staff of Army / CAPF, Health, Electricity, Fire Fighting, Accredited Media Personnel, Government Employees working under Kovid-19. During this period, by showing the identity card, they will be able to get movement in and out.
Apart from this, people going to appear in any examination or going on duty etc. in the examination will also be allowed to come and go by showing the admit card / identity card. There will be no restriction in the movement of people engaged in the manufacture of essential commodities.
There will be no restriction on vehicles carrying essential goods inside and outside the state. Passes will be provided to vehicles engaged in such works. These passes will be issued after verification of loading and unloading locations.
Civil hospital, animal hospital, all related medical services, manufacturing and distribution units will also be exempted. This facility will be applicable for government and private sector including dispensary, chemist, pharmacy (including Jan Aushadhi Kendra) and medical equipment shops, laboratory, pharma Research labs, clinics, nursing homes, ambulances etc. will be allowed to work.
All health workers, nurses, paramedical staff, hospital will be allowed to travel for necessary services. Apart from this, other essential commercial and private services which will be exempt will include tele communication, internet services, broadcasting and cable services, IT and IT related services, besides delivery of essential items through e-commerce.
These include delivery of food, pharmaceutical, medical equipment, etc. Store outlets of petrol pumps, LPG gas etc. will also be open. Services related to power generation, transmission and distribution, cold stores, warehouses, private security services, and the movement of farmers and laborers for agriculture related work will be exempted.
Restaurants and hotels etc. will be opened for home delivery only. There will be relaxation in movement within and outside the state for equipment suitable for agriculture and horticulture for inter-state harvesting and sowing operations. Passengers to and from the airport, railway station or interstate bus stand will be exempted.
The conditions for the marriage ceremony with prior permission from the District Magistrate or other authorized person will be exempted. For this, no more than 30 persons can be programed for indoor program and 50 for outdoor. In the instructions issued by the Chief Secretary, it has been said that despite the relaxation in this lockdown period, whatever protocols are stated by the Health Department from time to time, the organization / employer will ensure strict adherence to them.
It is mandatory for all industrial units, industrialists and concerned to apply for the pass on Saral Haryana portal.
The instructions issued clearly stated that legal action will be taken against those who do not comply with the said restrictions in the relevant areas under Section 51 to 60 and Disaster Management Act 2005, Section 188 of the IPC.
Important news: Now the ration or medicines taken without taking a pass will be FIR, know here how to get the pass
The second wave of epidemic is showing its havoc at the moment. The situation remains critical in every district at this time. Cases are constantly increasing. First night curfew was imposed in the state, then lockdown in 9 districts and after that the entire state was locked. Despite this, when people did not desist from leaving the house, now the pass has been made mandatory when they leave for any work outside the house.
This step has been taken in view of the seriousness of the situation. Every day, statistics are creating new records in the state. Now, if anyone comes out of a nearby house, an FIR will be lodged against him. If someone goes to the store far away from the street, even taking ration and medicine, then the pass will be necessary.
At this time, the epidemic has strengthened its hold in all the states of the country, including Haryana. Keeping this in mind, this step has now been taken. You will find the pass online on Saral portal. The authority to issue passes has been given to DCs of the districts. If the load increases when more applications come to a DC, then they will be able to give the relevant user login to their subordinate.
Everyday cases are increasing. The epidemic has caused outrage. The decision of strictness was taken in a meeting of the State Level Monitoring Committee chaired by Home Minister Anil Vij. In order to reduce further congestion in the markets, Vij has also given orders to open shops of ration, chemist etc. on the basis of roster.
An epidemic in the state has created a quandary at this time. The situation is not satisfactory in every district. The epidemic has caused havoc not only in the country but also abroad.
Source URL — : https://pehchanfaridabad.in/55755/important-news-for-haryanas-residents-now-if-you-get-out-of-a-nearby-house-then-an-fir-will-be-lodged-such-a-pass-should-be-made/?fbclid=IwAR0Wg0HKesUckx6GcwbdRh4CQvzs4Vua7YMUaQpEl1cic638B8nMcyJUGXk